Tag Archives:
colored denim
Hi loves!  How has your week been going so far?  It's been going great for me.  I am finally able to catch up on all my favorite blogs, I am so behind and still have a lot to catch up on.  So the kids started back to school a few weeks ago.  My daughter is a Senior this year… Woooo Hooo!  That means Prom, Sr Pictures, Sr Dues, etc etc.  She's already been online searching for Prom dresses.  LOL 
Colored denim is still a huge trend as well as printed denim.  I was on the hunt for leopard pants and finally came across a pair today online and orders those babies asap!!!  This is going to be a quickie post because its almost time for me to nurse my guy.
pants (
similar
) & clutch – H&M | sequin tank (
similar
) – Express | khaki swing jacket (
similar
)- Thrifted | shoes –
Sole Society
 | necklace –
c/o Alibaba
How fabulous is this disco ball rose gold plated necklace?  Isn't it GORGE?!?!?  I wore it and received so many compliments.  If interested, you can purchase it here. 
I wore this outfit for a ladies night out with my mom and some other ladies from my mom's congregation.  It was fun and the food was so good.  We all went to Bonefish restaurant.  I never been, but was very happy with the menu choice,  I ordered a special dish on the menu and it wasn't really good but the chocolate brownie dessert I ordered, made up for it!   I toned down the colored denim by going neutral on top.  Unless you are going to do color-blocking, you should go neutral on pieces that you are pairing with the colored denim.  Ok, baby is calling for mommy… gotta run.  
Here is a quick photo of my guy… he was ready for bed while I was heading out.  Isn't he just tooo cute?!?!?!  LOL
P.S.  I've linked up with Everybody Everywear… Be sure to head over to check out the other Back To School looks!!! 
Are you still rocking colored denim??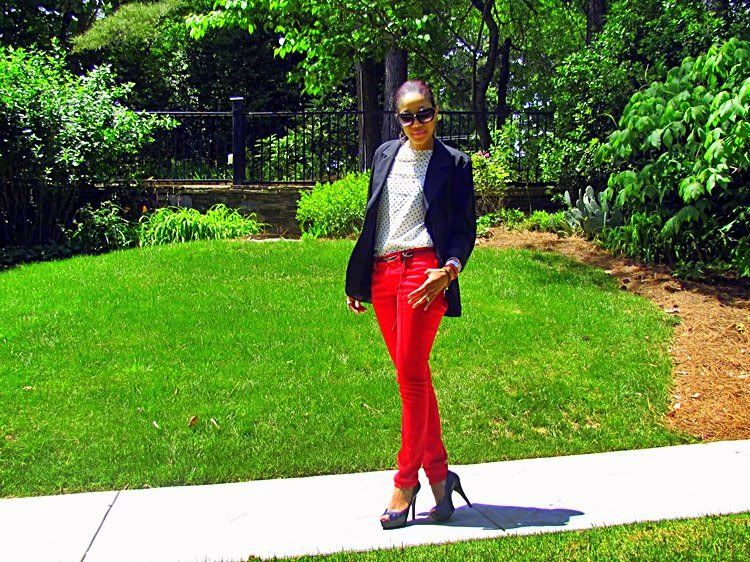 Hot Topic
-red jeans│H&M-polka dot top & assorted bracelets│Thrifted-blazer & skinny belt│BCBG-shoes│Michael Kors-watch│Charlotte Russe-snake ring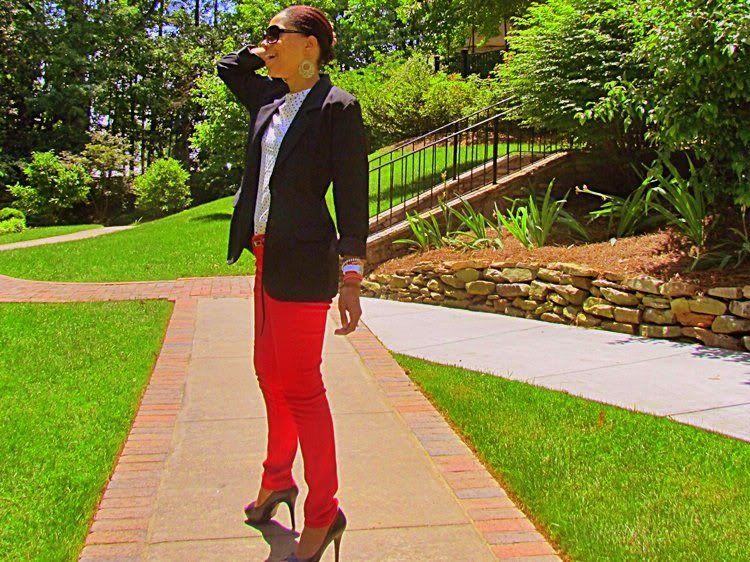 Short post today.  My WordPress isn't acting normal today.  Not quite sure why.  I wore this last week.  I'm a little obsessed with colored denim right now.  My daughter gifted these pants to me in December.  I also wore them here back in January where I went a little more casual.  This time, I paired them with simple black peep toe pumps, a navy polka dot top and black boyfriend blazer.  Speaking of blazers, I found a ton of colored blazers while thrifting a couple weeks ago and just got around to putting them in the cleaners.  They've been riding around in the trunk of my car and I finally remembered to drop them off.  I so can't wait to get them out so I can wear them.  I found so many good things!  Green and pink.. Ahhhh.  Now I need to find Orange.  A deep bright orange!
I'm also loving the trend with bracelets stacked around your watch.  HAUTE!  I just love it!!  Now I'm going to get back to figuring out why my WordPress is acting up today.  Gotta get my techy hubs in on this one, because I have no idea what I'm even looking for. LOL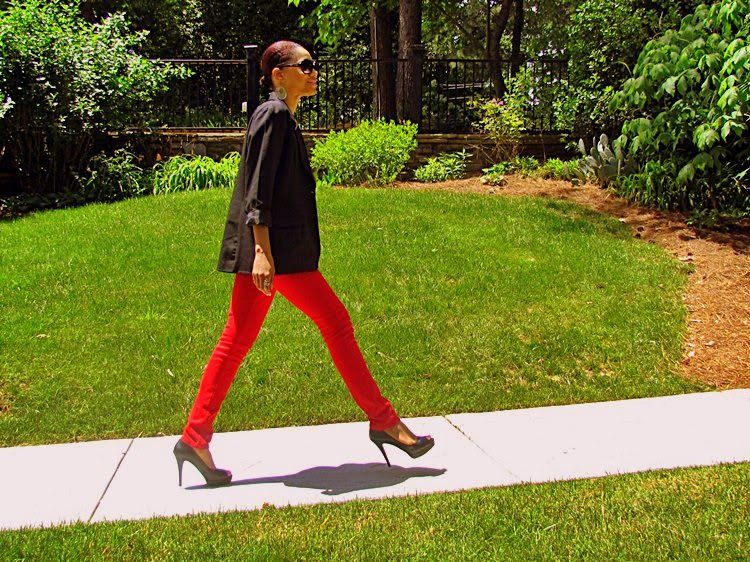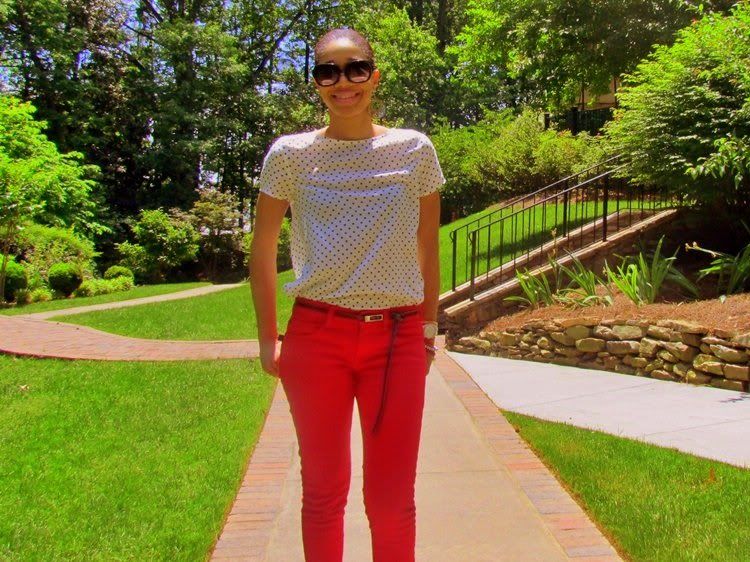 Don't forget to stop by Fashionista Next Door to see how she ROCKED IT in the "ROCK IT & ROLL IT Style Challenge".  ALSO, You still have a chance to enter to win a $50 Shopping Spree from MimiBoutique.com.  Click here to find out how!